Services for campaign selection
Campaign selection
A target group analysis is essential for optimal marketing and sales campaigns.
For a successful campaign, accurate data selection is more than important. We carry out a target group selection for you so that you can address your customers correctly. For this purpose, we analyze your customer data and form target group clusters within the database, which provide optimal profiles and
Show reaction patterns.
Systematic target group segmentation of customer loyalty campaigns leads to a cost saving of 50%, as wastage is minimized. By addressing, for example, only 10% of the prospects, 65% of the potential customers are reached. Experience the emotionalization of customer communication with cross-media, multi-level and intelligent campaigns. Campaign selection allows you to respond individually to your customers and their interests.
To ensure that your data is perfectly prepared before the start of the campaign, the customer addresses in your database are validated, updated and, if necessary, enriched with additional information before selection.
Achieve a functioning and promising result in direct sales together with PRODATA
and dialog marketing. We are your reliable and competent partner for 23 years.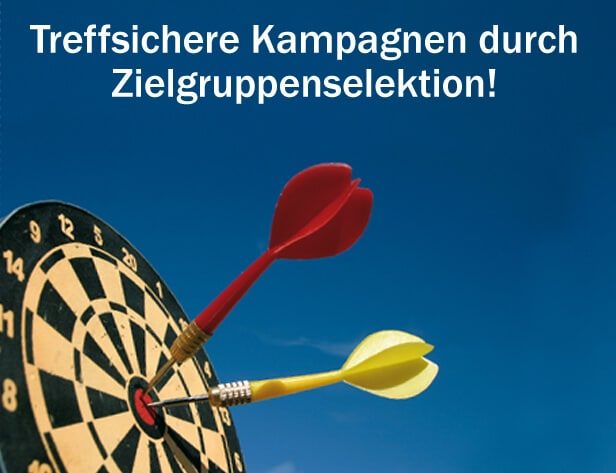 Advantages:
Exact delimitation of the target group per campaign
Segmentation of customers into homogeneous clusters
Minimization of wastage and cost reduction
Response rate optimization
Any questions or would you like a quote?
Then call us now Tel: 0721-98 171 111 or write an e-mail to
Sales@www.prodata.de

https://www.prodata.de/system/wp-content/uploads/sites/5/2022/06/logo-prodata.png
0
0
heftrich
https://www.prodata.de/system/wp-content/uploads/sites/5/2022/06/logo-prodata.png
heftrich
2014-01-16 16:11:24
2014-01-16 16:11:24
Services for campaign selection